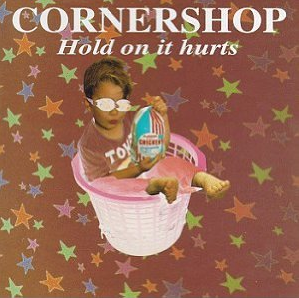 Amazon.com reviews:
5.0 out of 5 stars A pivotal moment for indie rock, June 17, 2004
This review is from: Hold on It Hurts (Audio CD)
Forget "Brimful of Asha", this band's noble yet watered-down attempt at a crossover hit song… "Hold on it Hurts" is their finest moment.
As has been mentioned before, the influences are there – Velvet Underground, Pavement, 60s garage, and traditional Indian music. What you might not hear – unless you're familiar with the band's history – is the influence of the scene that they grew out of. As documented in the underground – and criminally unknown – video fanzine "Getting Close to Nothing", Cornershop were part of a somewhat politicized, new scene of socially aware London indie rockers, where issues of race, gender and sexuality were focal points and even central themes for many bands of the time (Huggy Bear, Voodoo Queens, Sister George, etc.). It's notable that – in their call-to-arms anthem "England's Dreaming" – they not only urged a protest against racist attacks, but also against sexism and homophobia as well. That song mixed Morrissey's lyrics with Public Enemy, as both a way to critique Moz's recent flirtation with fascist imagery ("National Front Disco") and as a statement of cross-cultural protest… by namechecking icons of both black and white music, they subverted the usually polarized and simplistic ideas of race and made a name for Asians – especially South Asians – in the rock scene.
All that aside, this is a really fantastic, interesting, provocative and heartfelt album, succeeding as only the best music does… by allowing you to transcend your normal existence on this planet and to imagine a greater one.