Two Cornershop events at Bloomsbury Festival next month this October 2017 if you can get to London.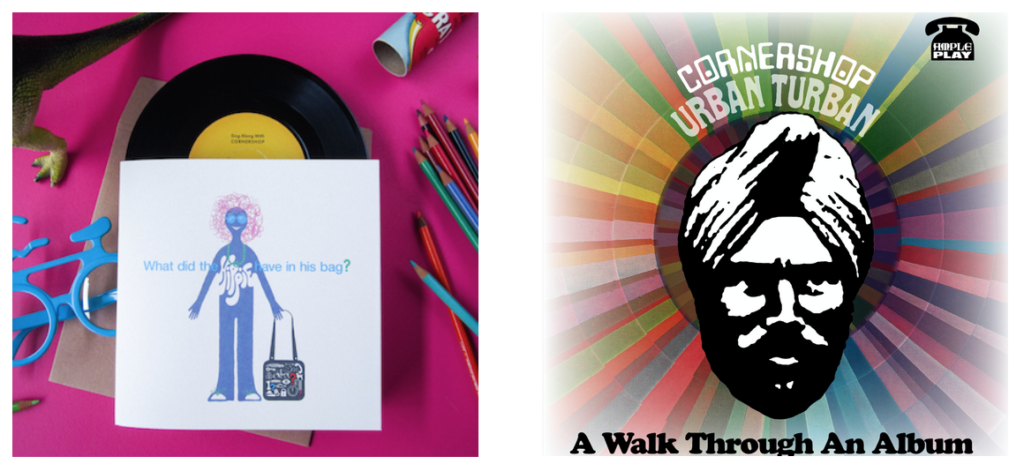 'What Did The Hippie Have in His Bag?' Family Workshop
A family workshop with our friend Peter the Librarian and Tjinder Singh based on the Cornershop song and picture book 'What Did the Hippie Have in His Bag?'
A session involving crafts, poetry, music and meditation. Come and find out what the Hippie has in his bag, in a session that entertains all ages.
11am Sunday 22 October Bloomsbury London Tickets & details here
The essential 7″ VINYL BOOK can be purchased here via our label Ample Play Records
URBAN TURBAN – A WALK THROUGH AN ALBUM
Tjinder has had this 'Walk Through an Album' idea for a long time. The album being the much cherished Urban Turban, an album of multiple musical and visual collaborations, which lends itself to becoming a physical experience. Bloomsbury Festival listened to the idea and walked it.
Do come and walk with us 18th October until 4th November.
CRUSH HALL, SENATE HOUSE – FREE ENTRY – Details here
The 'Walk Through an Album' is produced by Ample Play Records, commissioned by Bloomsbury Festival and supported by Arts Council England.