Other Music NYC Review:
"Everyone needs to stop what they are doing and pay special attention to this album. Cornershop returned from an extended hiatus last year with the excellent glam-gospel soul of the criminally slept-on Judy Sucks A Lemon For Breakfast, which saw Tjinder Singh, Ben Ayres, & co sharpening their hooks, tightening their grooves, and delivering what may actually have been their tightest, catchiest album yet, fusing T.Rex with Syl Johnson with a touch of Ananda Shankar's rock'n'raga (to very much oversimplify). After such a perfect distillation of the band's influences and enthusiasms (better even than the group's classic When I Was Born For the 7th Time), where to go next? During the group's time away, folks like Diplo and MIA (to name but a few) took the blueprints drafted by Cornershop and refitted them to the hip-hop/dance scene, helping to take globally-conscious influences into Western pop music with hugely successful results. Prior to Judy Sucks A Lemon, one of the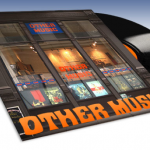 only dispatches we had really heard from the group since 2002 was a stellar double-A-side single "Topnotch/Natch" in 2004, which saw the group showcasing the heavenly Punjabi vocals of newcomer Bubbley Kaur, a singer the group allegedly discovered in their local launderette, delivering what was simultaneously the group's most vintage and modern recording to date. (It's also worth noting that MIA herself asked to appear on the single, throwing down a guest verse on a remix of "Topknot.")
Well, here we are in 2011 with The Double 'O' Groove Of, ten songs of deep, sunny funk and dusty collusionist grooves with the gorgeous Kaur at center stage, placing perhaps the heaviest emphasis yet on the group's Indian roots with spectacular results. Tjinder's vocals are nowhere to be found on this album, yet his and Ayres's voices are heard as loudly and clearly as Kaur's, fusing her siren calls into musical tapestries that enliven but never overwhelm her vocals; everything from percolating, brassy funk breaks to Tin Pan Alley piano are utilized to dizzying, dazzling effect. Overtop this choice blend, Kaur sounds like a seasoned playback singer, and the arrangements ably update the postmodern feel of classic Bollywood composers like RD Burman by fusing new influences into the the mix; the beatbox boom-bap, harpsichords, and squelchy bass of "Double Decker Eyelashes" and the sliced'n'diced brass & woodwind fanfares of "Once There Was A Wintertime" draw direct lineage from Asha Bhosle to Run DMC, while "The 911 Curry" sees Kaur chanting overtop a boisterous, Diplo-esque bhangra/moog beat. Rather than fighting the grooves, Kaur sounds relaxed and confident, and it's this chilled confidence that helps make the album such a refreshing success. On "The Biro Pen," the group delivers a chunky Randy Newman-esque piano line overtop thick, crashing drums, while album closer "Don't Shake It" injects fingerpicked acoustic guitar runs into a Hammond organ groover, sounding like Harry Nilsson sitting in with James Brown and Richard "Groove" Holmes, inspiring you to shake it after all. Thankfully, the group is also savvy enough to include both sides of the aforementioned single; the hypnotic circular guitar figures and clattering dholki drum patterns of "Topknot" are perhaps the most relaxing moments on the album, while the double-dutch breaks and pop-locking bass of "Natch" are a personal favorite, with Kaur singing deep in the echo chamber like a ghost of go-gos past.
All in all, this has been one of the most infectious, joyful, and straight-up funky records I've had the pleasure of hearing so far this year; since first receiving a copy about a month ago, I've not been able to stop listening to it. I've got to give top marks to Cornershop for pulling off such a brilliant slice of multiculturalist unity without making a big f-ing deal about it. And that overall is what makes the record such a success; where many artists are keen to push their broad-ranging influences and obsessions in your face, Cornershop and Bubbley Kaur just want you to take them at face value– it's all music, it's all valid, and best of all, it's all good. I'm hard-pressed to believe that anyone is going to release a new album in 2011 that I'm going to enjoy more than I do this one, and I can't give a higher recommendation than that."[IQ]