hip hip hooray – 'What Did the Hippie Have in His Bag?' workshop in France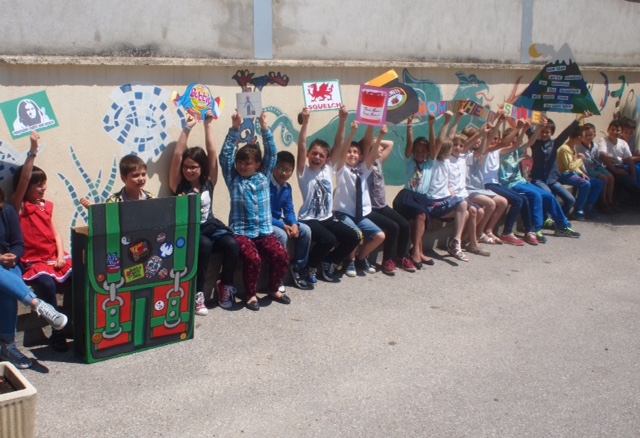 Ollie got in touch with us to buy, and asked for additional material relating to the song/book/vinyl 'What Did The Hippie Have In His Bag?' to create a lesson for his children's school. Ollie hailed from my old alma mater of Preston, so we were happily surprised that this lesson/workshop was for a French school. It sounds like it went tip-top, this is how he describes the situation in his own words:
"Being a massive Cornershop fan (and indeed owning our own Cornershop in Cornwall), whilst now living in Southern France, I was approached to donate some time and ideas for an English Day at our children's Bilingual school, the perfect opportunity to bring my passion for music and art presented itself.
'What Did The Hippie have In His Bag?' immediately sprung to mind as lending itself perfectly to the occasion. It's an undeniably funky toe tapper of a tune, very English and my kids love it (even Nancy who, just turned three recently, knows the words and will often insert them into everyday life, e.g. Double days and bubble gum, what did Max and Nancy eat for lunch?…….it's unknown!)  The idea to instill a bit of Cornershop wisdom and humour into the French kids learning- irresistible, perhaps a little left field, maybe too bonkersly British but a challenge worth undertaking.
The kids and I knocked up a Hippie's bag and contents over a long French Bank Holiday weekend. A couple of additions were made to tailor the story for the English Hippie in a French environment (Marmite and Curly Wurleys) and we were good to go.
Being double rubbish at French didn't make the workshop an easy prospect but undaunted and with a Hippie bag full of enthusiasm (and Curley Wurleys) and help from Tjinder and the brilliant head teachers we were off. "OK so you all going to join in?" Yeaaaah
We played 'Hippie' through before reading the book with the help of props and interpretation. The repetition of the title with the children backing is great for worming its way into your head and making it irresistible for singing along to. I tried to focus on words that are similar in French and English like boobley goom, marmalade, comprehend, espace, notre sac and hearing fifteen French voices pronouncing squelch (Mirandaesque – squelch, nice word squelch) is wonderful.
We finished by playing the video and the distribution of English confectionary. Six groups of kids ranging from eight to eleven passed through and hopefully left a little wiser to the world of pure imaginative, very British, eccentric, funky silliness. They certainly gamely played along and I'd like to think there's a place in their hearts for the Hippie and his bag.
I'm already planning on doing it again soon with the addition of percussion and aimed at younger children too…….watch this space!
Now that we've climbed the mountain, the mountain will never seem the same again!"
 Words and pictures by Ollie Hutchinson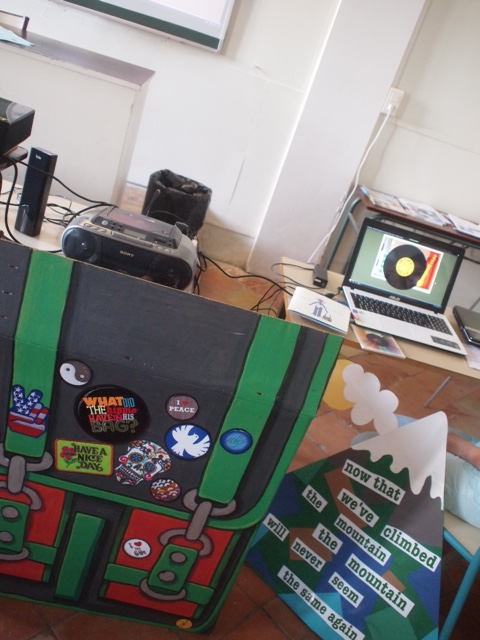 BUY THE VINYL/BOOK FROM OUR SHOP
Next Post