the Singhles Club #3 Cornershop fting Rajwant
Cornershop present Beacon Radio 303 the third track of The Singhles Club introducing a new Cornershop collaborator, vocalist Rajwant.
Rajwant was introduced to us via Alison Wonderland of Damaged Goods Records and is our very own ample play photographer, who saw Rajwant play at a party laid on for Billy Childish.
This track is laidback in its Punjabi funk, creating a sound that is best described as where rural country roads meet the City.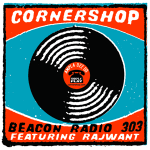 Beacon Radio 303 is part of the respected Singhles Club – Club subscribers will get all 6 tracks each with a very special limited digital popadom – which for this release is a cut out and keep turban man mask for all your urban turban needs. Out on Monday 8 August.
For further information please contact: info@cornershop.com
We have had a flurry of Subscribers to the Singhles Club lately, which is very good value for you, & ensures we may live to put out a few more records. To join and make living a happier experience please simply click here
Also click here to hear Beacon Radio 303 & other Singhles Club releases to date.
Cornershop ft Rajwant – BEACON RADIO 303 by cornershop
Next Post